fix bar
fix bar
fix bar
fix bar
fix bar
fix bar
Venue : Birla Auditorium Complex, Jaipur
Aug 19, 2019 - Aug 22, 2019
Rajasthan Innovation Vision (RajIV) 2019
---
Decades ago, our former Prime Minister Shri Rajiv Gandhi laid the foundation of the modern India, that we see today.
With a view to spreading his inspiring personality and historical works to the people, the state of Rajasthan will be celebrating the Rajasthan Innovation Vision ('RAJIV') 2019 on 19 and 22 August 2019 at Birla Auditorium, Jaipur .
This four day multi-faceted festival will comprises of panel discussions, startup seminars, startup exhibitions, e-governance awards etc. and will witness participation from startups, young entrepreneurs, academicians, prominent industry leaders, public representatives and students.
Venue : Techno Hub, Sansthan Path, Jhalana Gram, Malviya Nagar, Jaipur, Rajasthan
Jun 03, 2019
Rajasthan Angel Investor Pitch 2019
---
iStart Rajasthan is super excited to announce Rajasthan Angel Investor Pitch 2019, where shortlisted startups will be a part of one of the biggest Angel Investor Pitch at Techno Hub, JhalanaDoongri.
This is a by invite event for pre-screened shortlisted startups only.
Venue : Govt. Polytechnic College, Bikaner - Rajasthan Industrial Training Institute, Bikaner - Rajasthan
Jun 25, 2018 - Jun 27, 2018
Digifest Bikaner Edition
---
Started in 2016 with the vision to support and strengthen the technological ecosystem in the state, Rajasthan Digfest has now established itself as India's largest technology and startup festival, attracting a footfall of more than 1 Lac from all across the globe. Continuing with its commitment to further boost the technology paradigm in the state, Department of Information Technology & Communications, Government of Rajasthan is back with the fifth edition of Rajasthan DigiFest on 25th& 26th, July 2018 in the historic city of Bikaner.
Venue : Rajasthan University, Commerce College, IGPRS And Jawahar Kala Kendra Jaipur
May 18, 2018 - May 21, 2018
Rajasthan IT Day 2018
---
Department of Information Technology & Communication, Government of Rajasthan organized and celebrated 3rd edition of Rajasthan IT Day in the Pink City Jaipur. This 4-days Mega-Carnival of technology witnessed the incredible participation of over 2 Lac people across the country. The Government of Rajasthan organized various competitions, workshops, sessions and IT/Startup Expo in one big basket.
Venue : Mohanlal Sukhadia University (MLSU) Auditorium, University Road, Udaipur
Dec 02, 2017 - Dec 03, 2017
Rajasthan Digifest Udaipur 2017
---
DoIT&C, Government of Rajasthan organized the 2nd edition of Digifest in the city of Lakes, Udaipur. This 2-day Carnival of technology witnessed an incredible participation from startup and technology enthusiasts from across the state. During the event, the first iStart Nest incubator was inaugurated by Chief Minister Smt. Vasundhara Raje. The incubator is in Jaipur and would be one of a kind facility providing end-to-end acceleration and connection with venture capitalists across the world absolutely free of cost to Startups.
Venue : UIT Auditorium, Balaji Market, Rangbari Road, Kota
Aug 17, 2017 - Aug 18, 2017
Rajasthan Digifest Kota 2017
---
DoIT&C, Government of Rajasthan organized the 1st edition of Digifest at the education hub of the state, Kota. This 2-day Carnival of technology saw an incredible participation from startup and technology enthusiasts from across the state.During the event Chief Minister Smt. Vasundhara Raje inaugurated iStart Rajasthan Stack DIGISTAN of India and Challenge for Change, among other new initiatives. This new start up platform iStart (http://istart.rajasthan.gov.in/) would serve as a single point for registration, functioning, support and hand-holding for the startup firms as well as angel funding groups and venture capital funds.
Venue : IStart Nest Jaipur
Mar 20, 2017 - Mar 21, 2017
Rajasthan IT Day 2017
---
In recognition of the critical role of Technology in today's world, 21st March each year is celebrated as IT Day for the state. Rajasthan IT Day 2017 also hosted Rajasthan Hackathon, a 24-hour, multi-topic, innovation marathon for coders, developers, designers, inventors and all-around creators. Individuals and teams from across the country competed for the opportunity to incubate their winning ideas and the potential to bring it to life.
Venue : Birla Auditorium, Jaipur
Mar 21, 2016 - Mar 22, 2016
Rajasthan IT Day 2016
---
The government of Rajasthan recognizes the power of small technology-driven startups in wealth creation and employment generation. The state is committed to creating a comprehensive ecosystem where startups would grow & prosper to contribute as a significant part of the mainstream economy. To further advance Rajasthan Startup scenario, Department of IT and Communications, Government of Rajasthan organized the first state IT Day – Rajasthan IT Day 2016. The fest acted as a platform for Startups to display their expertise and efficiency and sought for a valuable support from the Government and Venture Capital organizations.
Venue : MNIT INNOVATION AND INCUBATION CENTRE, MNIT Campus, JLN Marg, Jaipur
Oct 04, 2019
HDFC Bank presents Digital Innovation Summit
---
Digital Innovation Summit (DIS) is held annually by HDFC Bank and the objective is to interface with FinTech and new age technology companies and start-ups in the BFSI domain, whilst exploring new and disruptive ideas that fit into the overall objective of simplifying our customer's lives.We are now conducting DIS on a regional level in multiple cities.
We are happy to announce our fourth edition of regional DIS to be held at Jaipur on 4th October, 2019 at MIIC, MNIT, Jaipur in association with Startup India, AIC, JKLU, NITI Aayog, iStart Rajasthan, 91 Springboard, IVY Camp, and CIIE, IIM Ahmedabad.
Venue : Leela Ambience, Gurugram
Aug 26, 2019 - Aug 27, 2019
NASSCOM Annual Technology Conference 2019
---
We are excited to partner with NASSCOM for their upcoming NASSCOM Annual Technology Conference 2019 on 26 and 27 August 2019 at Leela Ambience, Gurugram. The partnerships provides our startups one of its kind opportunity to showcase their products at the exhibition for complete 2 days and participate in all activities of this coveted by invite only event.
Venue : Birla Auditorium, Jaipur
Aug 19, 2019
Amit Tandon (Stand up Comedian) and KC Ayyagari (Google) at RajIV 2019
---
Join us for interactive sessions with Amit Tandon (Stand up Comedian) and KC Ayyagari (Google) at RajIV 2019 on 19 August at Birla Auditorium, Jaipur.
Venue : AIC-JKLU, JK Laxhmipat University, Mahindra Sez, Jaipur
Jul 27, 2019
AIC- JKLU: SMC (Startup Master Class)
---
Startup Master Class (SMC) is a 4-year-old initiative of Alumni Association IIT Kanpur and has now become a Pan-IIT event. To achieve its mandate of fostering and nurturing budding entrepreneurs, it brings together startups, mentors and investors to build interactions and strengthen the network within the entrepreneurial community.
Venue : Hotel Pullman, Aerocity, New Delhi
Jul 24, 2019
ASDC Annual Conclave 2019
---
ASDC Annual Conclave is a platform where the Indian as well as Global Automotive Industry leaders, Ministers, Govt. officials and other stakeholders interact as well as deliberate on the pressing issues in the Automotive Skill Ecosystem.
Venue : third Floor, Techno Hub
Jun 27, 2019
iStart Rajasthan - Investor Connect
---
iStart Rajasthan is pleased to invite you to investor connect session with curated investors from the partner panel of Indian Angel Network.
Venue : SMS Convention Center, Jaipur
Jun 21, 2019
Rajasthan Digitech Summit
---
Rajasthan Digitech Summit Aims To Initiate Discussions And Deliberations On The Finest Practices And Challenges Of Startups In AI, IoT, Blockchain, Robotics, Drones & Industry 4.0 And Possible Solutions. The Unique Congregation Of Top Decision Makers From Government, Academia And Corporate Would Serve As An Ideal Platform For All The Stakeholders Of These Domain To Formulate An Effective Ecosystem Needed For Ensuring Last-Mile Distribution And Harnessing Solutions Among The Startup Fraternity.
Venue : Hilton, Jaipur
Jun 15, 2019
Rajasthan Rural Energy Startup Summit 2019
---
iStart Rajasthan is privileged to partner with Startup Oasis and CIIE Ahmedabad's Rajasthan Rural Energy Startup Summit 2019 at Hilton, Jaipur on 15 June 2019.
The summit aims to initiate discussions and deliberations on the finest practices and challenges of Rural India's Access to Clean Energy and possible solutions. The unique congregation of top decision makers from government, academia and corporate would serve as an ideal platform for all the stakeholders of the energy domain to formulate an effective ecosystem needed for ensuring last-mile distribution and harnessing of clean energy solutions among startup fraternity.
Venue : Arbuda convention center, jaipur
May 11, 2019
Startup Chaupal 2019
---
The Startup Chaupal is a platform for startups, individuals, venture capitalists, accelerators, incubators, angel investors and service providers to come and be part of a large mix to celebrate entrepreneurs and entrepreneurship with an opportunity to interact and network with people of direct interest with each other.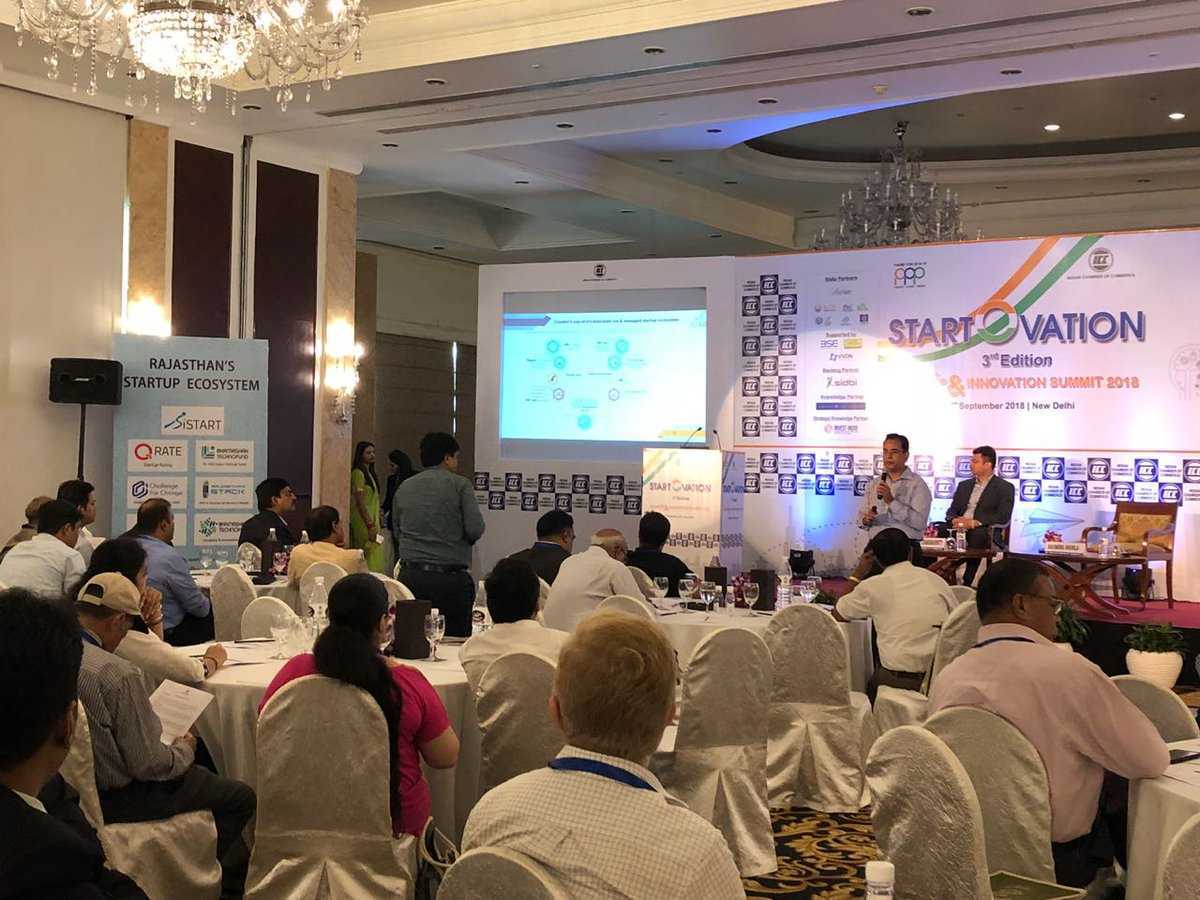 Venue : Hotel Shangri-La's, Ashoka Road, New Delhi
Sep 07, 2018
Startup & Innovation Summit -START-O-VATION
---
iStart Rajasthan is proud to be the state partner of the Indian Chamber of Commerce's 3rd Startup & Innovation Summit -START-O-VATION in New Delhi. START-O-VATION sheds light on various topics of key interest for the startups such as brand building, taxation, legal, compliances, fund raising, concept evaluation, market research, talent acquisition, connect with mentors.
Venue : JW MARRIOT, NEW DELHI
Jul 16, 2018 - Jul 17, 2018
Entrepreneur Awards 2018
---
Entrepreneur is a platform for entrepreneurs to discover and unleash breakthrough ideas, innovations and insights needed to realize their power to disrupt the social, economic and tech ecosystem. In its 8th Annual edition, Entrepreneur 2018 aims to bring together inspiring entrepreneurs and investors for creating new opportunities for investment, build new partnerships and collaboration avenues and highlight entrepreneurship as means to address some of the most intractable society challenges.
Venue : Jaipur
Jul 13, 2018
National Tourism Conclave
---
Department of Tourism and Rajasthan Tourism Development Corporation, Government of Rajasthan, along with Elets Technomedia Pvt Ltd, is organising National Tourism Conclave in the pink city of Jaipur in the state of Rajasthan. The conclave will be a platform for interaction between Government and Industry and other stakeholders on innovative practices for Tourism development and promotion.
Venue : JW Marriot, Sahar, Mumbai
Feb 21, 2018 - Feb 22, 2018
TiE Global Summit 2018
---
TiE Global Summit is the largest Global Entrepreneurial Leadership Summit that takes place once a year across the Globe. This is the 2nd edition of TGS, which took place in Mumbai on the 21st & 22nd of Feb, 2018. This Summit, in partnership with the leading agencies of the Government of India, 20+ TiE chapters from India, USA, Canada, Singapore, Hong Kong, Australia and Dubai, and global venture capital funds is a culmination of Global Wealth Creators with Global Innovators. There was a dedicated investor pitching session organized exclusively for iStart Rajasthan curated startups. The session gave a golden opportunity to all the curated startup entrepreneurs from Rajasthan by bringing them to one platform where they have pitched their ideas of various fields such as healthcare, banking, education, e-commerce et al to the investors from across the globe.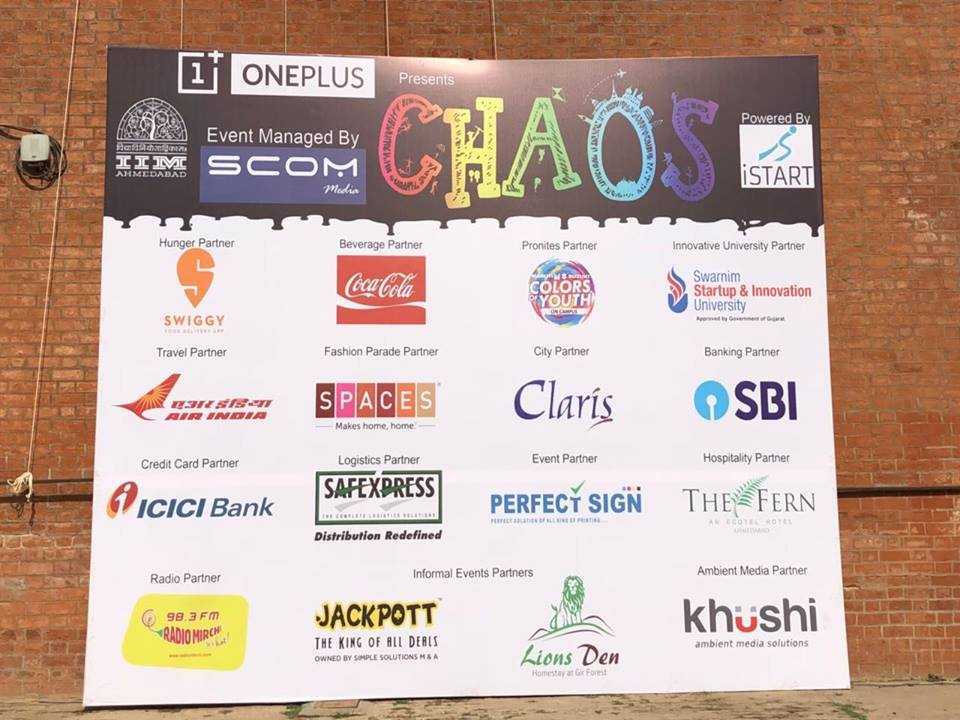 Venue : IIM Ahmedabad
Jan 25, 2018 - Jan 28, 2018
IIM Chaos
---
Chaos, is the annual cultural festival of IIM-Ahmedabad. This four day event attracts India's top tiercolleges, schools, private institutions and celebrities, making it an event to look forward to in western India. An iStart Zone was set up in the heart of IIM Chaos.Students, entrepreneurs, college representatives, professors and corporate individuals visited the Zone to learn more about the initiatives introduced by the Government of Rajasthan, including but not limited to the one of its kind iStart Platform, the startup rating mechanism - the QRate program, the e-Mitra platform, the Bhamashah Technohub and the iStart Nest.
Venue : Diggi Palace, Jaipur
Jan 25, 2018 - Jan 29, 2018
JLF Event 2018
---
JLF 2018 was a five-day event set against the backdrop of Rajasthan's stunning cultural heritage and the Diggi Palace in the state capital Jaipur. The largest free Literary Festival in the world, the Zee Jaipur Literature Festival is one of the most exciting, stimulating platforms for an egalitarian exchange of books and ideas, bringing together some of the greatest thinkers and writers from across the world. A delegation from Department of IT, Government of Rajasthan led by Mr Ravindra Shukla (MD RKCL), Smt Vinita Srivastava (ACP (Dy. Director), RISL), Smt Richa Bhatnagar (eMitra) and Smt. Tina (eMitra) was present at JLF 2018.Rajasthan showcased its iStart platform and facilitated the participation of 14 startups registered on iStart platform to demonstrate their products/solution during the 5 days-long event, along with a waiver of registration fee.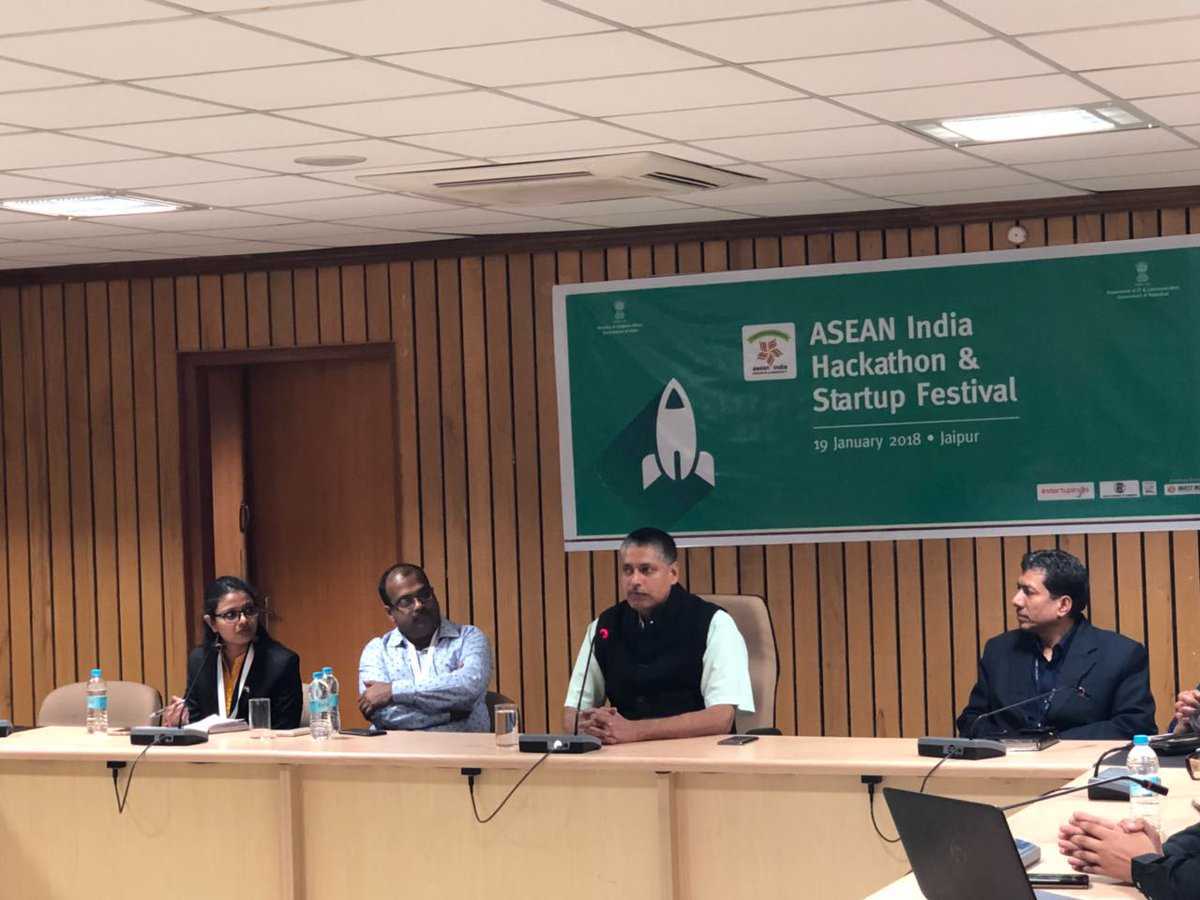 Venue : Jaipur
Jan 19, 2018
ASEAN Delegation Visited Jaipur To Interact With IStart Rajasthan Team
---
The Department of Information Technology and Communication, Government of Rajasthanhosted the startup delegation as part of Association of Southeast Asian Nations ('ASEAN') Head of States' visit to India in January 2018. The ASEAN startups interacted with the Commissioner & Principal Secretary of the Department who debriefed both the delegation and Rajasthani startups on the initiatives undertaken by the government, the tremendous progress in Rajasthan's startup ecosystem and areas of collaboration between international startups with the government as well as startups from Rajasthan. This was followed by a knowledge exchange session facilitated between the startups of Rajasthan and ASEAN delegation. The ASEAN delegation also visited iStart Nest, Jaipur (state run and managed free of cost incubator for the startups) and interacted with the incubatees.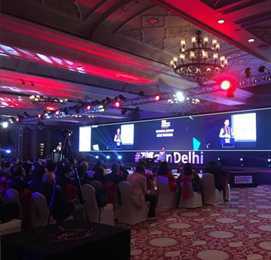 Venue : New Delhi
Dec 15, 2017 - Dec 16, 2017
Tie-Con Conference
---
As a partner state/ sponsor state, Government of Rajasthan facilitated the participation of 50 participants from among the startups registered with iStart providing them the opportunity to showcase their products during the 2 daylong event along with a waiver of registration fee. Rajasthan pavilion was one of the most visited pavilion during the entire event. The delegation and startups witnessed heavy interest from various participants during the entire event.