fix bar
fix bar
fix bar
fix bar
fix bar
fix bar
Venue : Govt. Polytechnic College, Bikaner - Rajasthan Industrial Training Institute, Bikaner - Rajasthan
Jun 25, 2018 - Jun 27, 2018
Digifest Bikaner Edition
---
Started in 2016 with the vision to support and strengthen the technological ecosystem in the state, Rajasthan Digfest has now established itself as India's largest technology and startup festival, attracting a footfall of more than 1 Lac from all across the globe. Continuing with its commitment to further boost the technology paradigm in the state, Department of Information Technology & Communications, Government of Rajasthan is back with the fifth edition of Rajasthan DigiFest on 25th& 26th, July 2018 in the historic city of Bikaner.
Venue : Rajasthan University, Commerce College, IGPRS And Jawahar Kala Kendra Jaipur
May 18, 2018 - May 21, 2018
Rajasthan IT Day 2018
---
Department of Information Technology & Communication, Government of Rajasthan organized and celebrated 3rd edition of Rajasthan IT Day in the Pink City Jaipur. This 4-days Mega-Carnival of technology witnessed the incredible participation of over 2 Lac people across the country. The Government of Rajasthan organized various competitions, workshops, sessions and IT/Startup Expo in one big basket.
Venue : Mohanlal Sukhadia University (MLSU) Auditorium, University Road, Udaipur
Dec 02, 2017 - Dec 03, 2017
Rajasthan Digifest Udaipur 2017
---
DoIT&C, Government of Rajasthan organized the 2nd edition of Digifest in the city of Lakes, Udaipur. This 2-day Carnival of technology witnessed an incredible participation from startup and technology enthusiasts from across the state. During the event, the first iStart Nest incubator was inaugurated by Chief Minister Smt. Vasundhara Raje. The incubator is in Jaipur and would be one of a kind facility providing end-to-end acceleration and connection with venture capitalists across the world absolutely free of cost to Startups.
Venue : UIT Auditorium, Balaji Market, Rangbari Road, Kota
Aug 17, 2017 - Aug 18, 2017
Rajasthan Digifest Kota 2017
---
DoIT&C, Government of Rajasthan organized the 1st edition of Digifest at the education hub of the state, Kota. This 2-day Carnival of technology saw an incredible participation from startup and technology enthusiasts from across the state.During the event Chief Minister Smt. Vasundhara Raje inaugurated iStart Rajasthan Stack DIGISTAN of India and Challenge for Change, among other new initiatives. This new start up platform iStart (http://istart.rajasthan.gov.in/) would serve as a single point for registration, functioning, support and hand-holding for the startup firms as well as angel funding groups and venture capital funds.
Venue : IStart Nest Jaipur
Mar 20, 2017 - Mar 21, 2017
Rajasthan IT Day 2017
---
In recognition of the critical role of Technology in today's world, 21st March each year is celebrated as IT Day for the state. Rajasthan IT Day 2017 also hosted Rajasthan Hackathon, a 24-hour, multi-topic, innovation marathon for coders, developers, designers, inventors and all-around creators. Individuals and teams from across the country competed for the opportunity to incubate their winning ideas and the potential to bring it to life.
Venue : Birla Auditorium, Jaipur
Mar 21, 2016 - Mar 22, 2016
Rajasthan IT Day 2016
---
The government of Rajasthan recognizes the power of small technology-driven startups in wealth creation and employment generation. The state is committed to creating a comprehensive ecosystem where startups would grow & prosper to contribute as a significant part of the mainstream economy. To further advance Rajasthan Startup scenario, Department of IT and Communications, Government of Rajasthan organized the first state IT Day – Rajasthan IT Day 2016. The fest acted as a platform for Startups to display their expertise and efficiency and sought for a valuable support from the Government and Venture Capital organizations.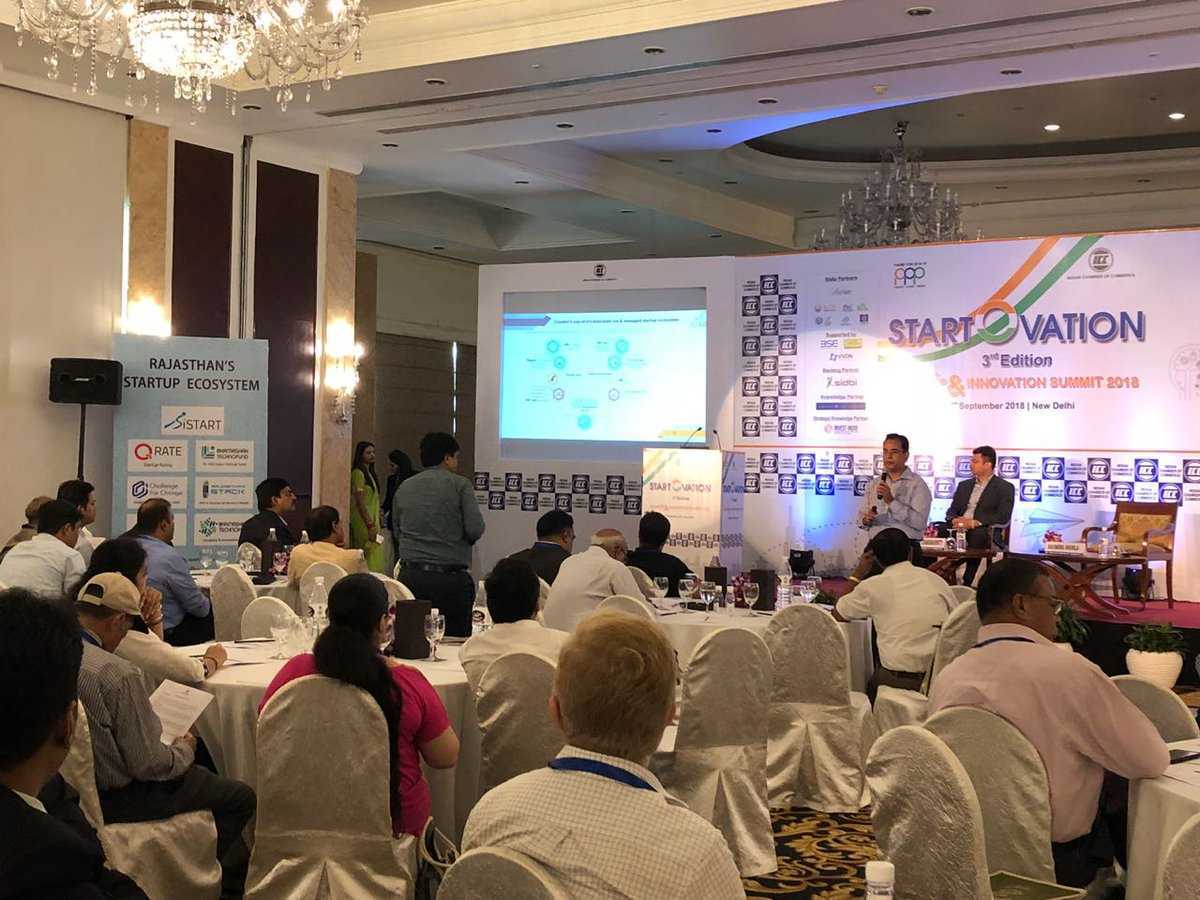 Venue : Hotel Shangri-La's, Ashoka Road, New Delhi
Sep 07, 2018
Startup & Innovation Summit -START-O-VATION
---
iStart Rajasthan is proud to be the state partner of the Indian Chamber of Commerce's 3rd Startup & Innovation Summit -START-O-VATION in New Delhi. START-O-VATION sheds light on various topics of key interest for the startups such as brand building, taxation, legal, compliances, fund raising, concept evaluation, market research, talent acquisition, connect with mentors.
Venue : JW MARRIOT, NEW DELHI
Jul 16, 2018 - Jul 17, 2018
Entrepreneur Awards 2018
---
Entrepreneur is a platform for entrepreneurs to discover and unleash breakthrough ideas, innovations and insights needed to realize their power to disrupt the social, economic and tech ecosystem. In its 8th Annual edition, Entrepreneur 2018 aims to bring together inspiring entrepreneurs and investors for creating new opportunities for investment, build new partnerships and collaboration avenues and highlight entrepreneurship as means to address some of the most intractable society challenges.
Venue : Jaipur
Jul 13, 2018
National Tourism Conclave
---
Department of Tourism and Rajasthan Tourism Development Corporation, Government of Rajasthan, along with Elets Technomedia Pvt Ltd, is organising National Tourism Conclave in the pink city of Jaipur in the state of Rajasthan. The conclave will be a platform for interaction between Government and Industry and other stakeholders on innovative practices for Tourism development and promotion.
Venue : JW Marriot, Sahar, Mumbai
Feb 21, 2018 - Feb 22, 2018
TiE Global Summit 2018
---
TiE Global Summit is the largest Global Entrepreneurial Leadership Summit that takes place once a year across the Globe. This is the 2nd edition of TGS, which took place in Mumbai on the 21st & 22nd of Feb, 2018. This Summit, in partnership with the leading agencies of the Government of India, 20+ TiE chapters from India, USA, Canada, Singapore, Hong Kong, Australia and Dubai, and global venture capital funds is a culmination of Global Wealth Creators with Global Innovators. There was a dedicated investor pitching session organized exclusively for iStart Rajasthan curated startups. The session gave a golden opportunity to all the curated startup entrepreneurs from Rajasthan by bringing them to one platform where they have pitched their ideas of various fields such as healthcare, banking, education, e-commerce et al to the investors from across the globe.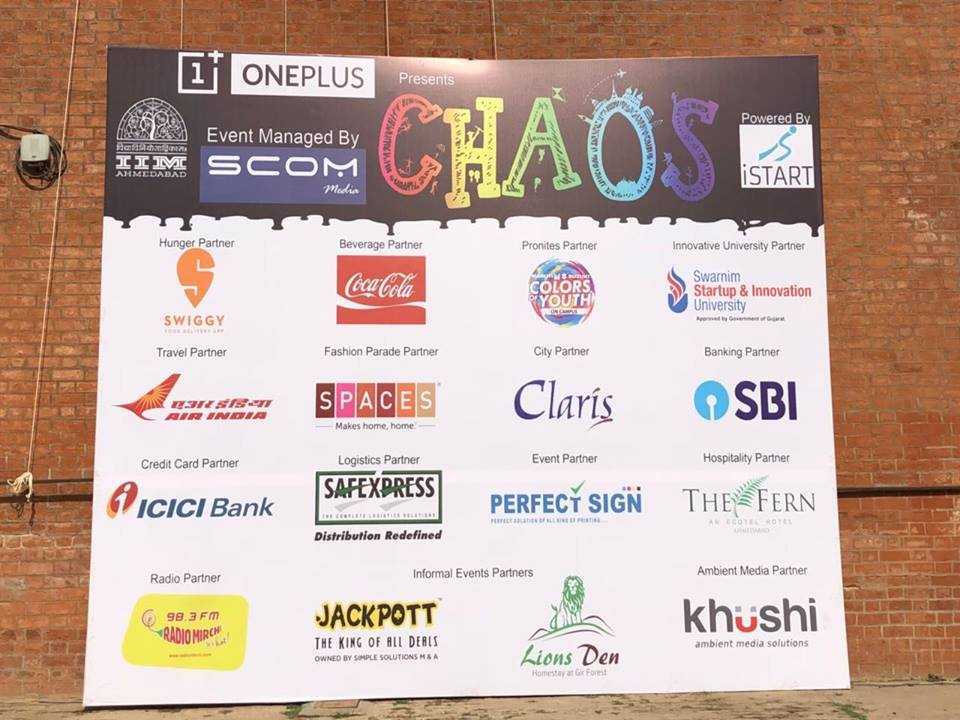 Venue : IIM Ahmedabad
Jan 25, 2018 - Jan 28, 2018
IIM Chaos
---
Chaos, is the annual cultural festival of IIM-Ahmedabad. This four day event attracts India's top tiercolleges, schools, private institutions and celebrities, making it an event to look forward to in western India. An iStart Zone was set up in the heart of IIM Chaos.Students, entrepreneurs, college representatives, professors and corporate individuals visited the Zone to learn more about the initiatives introduced by the Government of Rajasthan, including but not limited to the one of its kind iStart Platform, the startup rating mechanism - the QRate program, the e-Mitra platform, the Bhamashah Technohub and the iStart Nest.
Venue : Diggi Palace, Jaipur
Jan 25, 2018 - Jan 29, 2018
JLF Event 2018
---
JLF 2018 was a five-day event set against the backdrop of Rajasthan's stunning cultural heritage and the Diggi Palace in the state capital Jaipur. The largest free Literary Festival in the world, the Zee Jaipur Literature Festival is one of the most exciting, stimulating platforms for an egalitarian exchange of books and ideas, bringing together some of the greatest thinkers and writers from across the world. A delegation from Department of IT, Government of Rajasthan led by Mr Ravindra Shukla (MD RKCL), Smt Vinita Srivastava (ACP (Dy. Director), RISL), Smt Richa Bhatnagar (eMitra) and Smt. Tina (eMitra) was present at JLF 2018.Rajasthan showcased its iStart platform and facilitated the participation of 14 startups registered on iStart platform to demonstrate their products/solution during the 5 days-long event, along with a waiver of registration fee.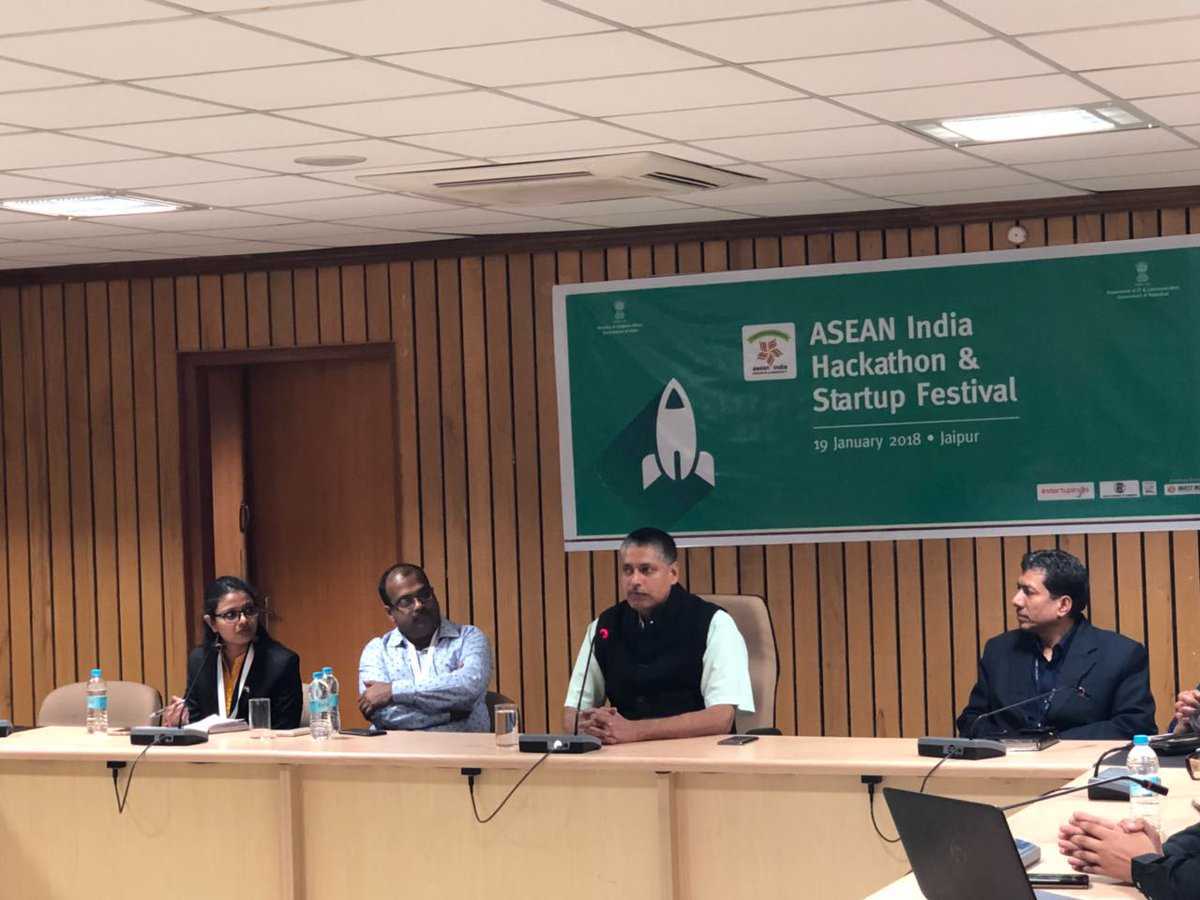 Venue : Jaipur
Jan 19, 2018
ASEAN Delegation Visited Jaipur To Interact With IStart Rajasthan Team
---
The Department of Information Technology and Communication, Government of Rajasthanhosted the startup delegation as part of Association of Southeast Asian Nations ('ASEAN') Head of States' visit to India in January 2018. The ASEAN startups interacted with the Commissioner & Principal Secretary of the Department who debriefed both the delegation and Rajasthani startups on the initiatives undertaken by the government, the tremendous progress in Rajasthan's startup ecosystem and areas of collaboration between international startups with the government as well as startups from Rajasthan. This was followed by a knowledge exchange session facilitated between the startups of Rajasthan and ASEAN delegation. The ASEAN delegation also visited iStart Nest, Jaipur (state run and managed free of cost incubator for the startups) and interacted with the incubatees.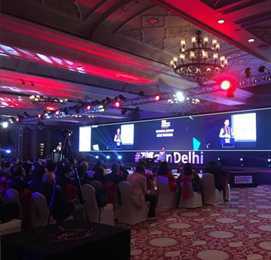 Venue : New Delhi
Dec 15, 2017 - Dec 16, 2017
Tie-Con Conference
---
As a partner state/ sponsor state, Government of Rajasthan facilitated the participation of 50 participants from among the startups registered with iStart providing them the opportunity to showcase their products during the 2 daylong event along with a waiver of registration fee. Rajasthan pavilion was one of the most visited pavilion during the entire event. The delegation and startups witnessed heavy interest from various participants during the entire event.
09:00 AM - 07:00 PM
Oct 22, 2018
Academic Workshop at Bhamashah Techno Hub
As part of the ongoing series of workshops for students from schools across Jaipur at India's largest incubator- Bhamashah Techno Hub, Jaipur, a one day workshop has been scheduled for senior academicians including principals and senior lecturers. Attendance for this workshop is by invitation only
10:00 AM - 11:50 AM
Sep 24, 2018
Solution Day Monday
Calling all the startup founder/co-founder & their employees in Jaipur for attending one of a kind monthly event "Solutions day Monday ". This platform will help founder to discuss their startup's challenge with others, who faced similar challenges which will help the founder to obtain the best suitable solution.
Auditorium, 2nd Floor, Bhamashah Techno Hub
03:00 PM - 05:00 PM
Sep 20, 2018
Executing on Product Roadmap: A Hands-on Workshop
This workshop will get into a deep-dive session where each participant will participate in the creation of a Product Requirement Document (PRD) for their startup. The PRD accelerates the product development cycle and helps startups organise there strategy, plan and goals around their product thesis. Speaker: Aayush Srivastava, is a founder and CPO at Startereum, a global crypto token acceleration platform.
Dialogue box, 2nd Floor, Bhamashah Techno Hub
12:20 PM - 09:45 AM
Sep 05, 2018 - Sep 18, 2018
Startup 101: Product, Hiring and Finding Early Adopters
By Aditya Dev Sood ,Chief Mentor and General Partner at the Startup Tunnel Accelerator
Another insightful & informative session "Startup 101: Product, Hiring &Finding Early Adopters" was conducted at BhamashahTechnoHub. Aditya Dev Sood of Chief Mentor and General Partner at the Startup Tunnel Accelerator in New Delhi, India & Aayush Srivastava of Amicus were trained emerging startups on building a dream team for their product.
Auditorium, 2nd Floor, Bhamashah Techno Hub, Jaipur
03:00 PM - 05:00 PM
Sep 12, 2018
Capital conversation with Sandro Stephen
By Sandro Stephen ,Regional Head-North India Operation at IAN
Sandro Stephen regional Head-North India Operation at IAN took an exclusive session for the curious startup minds to know more about raising funds.
2nd Floor Auditorium, Bhamashah Technohub, Jaipur
02:15 PM - 04:25 PM
Sep 08, 2018
How to Raise Seed and Series A Fund
By Rakesh Soni ,CEO and Founder LoginRadius
Rakesh Soni, CEO and Founder of LoginRadius providing insights on how to raise seed and series A funding along with sharing his startup experience.
2nd Floor Auditorium, Bhamasha Techno Hub, Jaipur
01:10 PM - 02:50 PM
Sep 01, 2018
How to plan for Sales in startups-Live Webinar
For ensuring a successful long-term business, all startups should learn to sell their products & services. To teach aspiring entrepreneurs on "How to do sales in startups", #BhamashahTechnoHub hosted a webinar conducted by Amitabh Srivastava, Managing Partner, IAN Fund
09:30 AM - 12:00 PM
Aug 30, 2018
How to execute ideas by Chandramouli Venkatesan
India's largest incubation centre hosted another exclusive session for startups. Mr. Chandramouli Venkatesan, author of bestseller 'Catalyst to Jaipur' book, trained the entrepreneurs on 'How to execute their ideas'.
01:05 PM - 04:00 PM
Aug 29, 2018
Challenges faced by startup: Seed to Series A
By Amit Kumar ,VP- Xinfin Organization
The ingredients of Series-A company is a lot different from seed company. You are growing from baby to teenager so stakeholders have different expectations from you. What's your priority - Investor, Team, Product, Customer? How you should grow faster than your startup. Mr.Amit Kumar(VP- Xinfin organization, former VP- Quikr) provides his valuable thoughts on challenges faced by startup: Seed to series A.
11:05 AM - 12:25 PM
Aug 16, 2018
Venture Garage´s Find Your Investor 2018
iStart Rajasthan in association with Venture Garage organized Jaipur edition of Find Your Investor ('FYI') programme 2018 on 10 August 2018 at iStart Nest, Jaipur. FYI is a platform for entrepreneurs to learn about the nuances of raising capital, interact with investors one-on-one and, find the right investor with whom they can have follow on conversations to explore fund raising
11:00 AM - 01:00 PM
Jun 29, 2018
Axis Bank Venture Fund
Venture Capital Process and Experience Sharing
12:00 PM - 02:40 PM
Jun 20, 2018
Intellectual Property Rights – Workshop
Workshop on IPR and various aspects for Startups
12:40 PM - 02:40 PM
Jun 18, 2018
Seminar with Axis Bank
Leveraging on Axis Bank GST System for Startups
03:00 PM - 05:00 PM
Jun 08, 2018
Introduction to Rajasthan Venture Fund
Introduction to Venture Capital Funding by K. Ganapathy Subramanian – Chief Executive Officer and Gaurav Chowdhry, Vice-President – Investments
12:00 PM - 12:00 PM
May 12, 2018
DSK IPR Session
DSK Legal held an IPR and legal awareness session for startups in Jaipur. The agenda behind holding the session was to offer startups range of perspectives pertaining to intellectual property; opportunities, challenges, and the role of IP for Startups in the rapidly evolving marketplace. Startups and experts also had an open house discussion with relation to IPR, Govt. initiatives on IPR facilitation for startups, key agreements and necessary clauses to ascertain that confidential data and know how is protected. Mr. Jappreet Sethi, CEO and Founder of YoStartups was invited as the Guest speaker.
10:20 AM - 12:00 PM
May 10, 2018 - May 07, 2018
Early Stage Financing
Session on Early Stage Financing and demystifying the jargons of financial world by Mr. Ankur Nigam #KPMGIndia
09:50 AM - 11:55 AM
Apr 23, 2018
Session with Oyo
A session was hosted with the senior management of OYO team to provide one-of-its kind opportunity for startups of Rajasthan. The startups were offered an unmatched platformlooking to diversify/venture or have a pilot project with OYO Rooms.
10:40 AM - 12:40 PM
Apr 18, 2018
Systematic Sales & Marketing for Startups
The talk was held with the objective of introducing entrepreneurs to various facets of sales and marketing with real life illustrations so as to help them develop and adopt a systematic approach to marketing, irrespective of the size, stage or sector of their venture. Mr. Manish Godha, Founder & CEO - Advaiya and President - TiE Udaipur was the guest speaker for the session.
iStart Nest Udaipur