Entrepreneur Journey in Ignite Program
Objective : To support start-ups from a minimum viable concept stage to an investible pitch deck through a structured pathway by creating a compelling Value Prop. sustainable Business Model, Financial Stability, Validated MVP.
Resources - top-notch curated material, case-study based facilitated sessions, access to experts and mentors, masterclasses and expert webinars.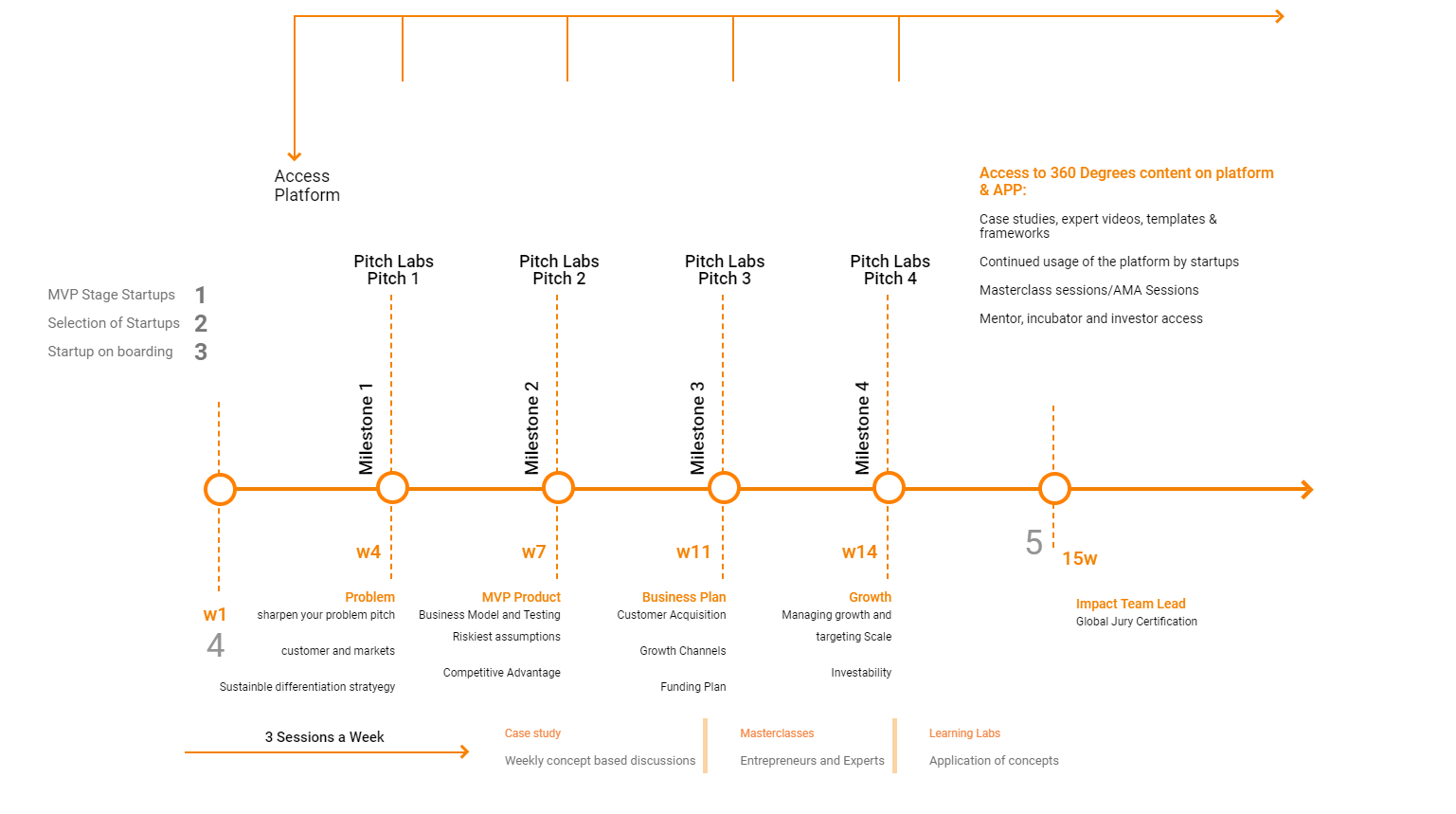 Program Objective :
⦁ To work with and support Prototype/MVP Stage Start-ups of Rajasthan, channelized through iStart Rajasthan.
⦁ All the selected Entrepreneurs will be taken through NEN IGNITE: a 14 weeks, structured experiential program, offered and facilitated by NEN Wadhwani Foundation in collaboration with iStart Rajasthan.
⦁ An outcome based program - NEN IGNITE: MVP to Launch Ready – enabling Prototype Stage Entrepreneurs to take their validated ideas to early traction and investible ready pitch stage.
⦁ Startups would be supported by curated structured content, frameworks, Expert Masterclasses, Mentors and network support, followed by an offline Demo Day.
---
Program Goal :
⦁ Assess and analyse the current business model;
⦁ Articulate a compelling Value Proposition ;
⦁ Identify risky assumptions, gaps, and obstacles; iterate to a sustainable business model;
⦁ Test, refine and validate your MVP in an efficient manner;
⦁ Select the appropriate Go-to-Market Strategy;
⦁ Manage Growth and Target Scale;
⦁ Create Funding Plan and get ready to Pitch your Startup to Investors/Funding agencies;
---
Program Outcome :
⦁ Acquire in-depth knowledge about the different growth tools to grow your business, using modern-day technology.
⦁ Identify different aspects that can impact Your business.
⦁ Create financial plans, sales plan, funding plan and GTM strategies for Your business.
⦁ Devise a Growth Plan, structure the Scaling and Customer acquisition Strategy
⦁ Create a pitch deck for your business and present it to different stakeholders including Investors.
Program Timeline
Call for Application

May 07 - May 18, 2022

01

MAY 19-22, 2022

Screening

02

1:1 Pitches

May 23-25, 2022

03

Orientation & Platform on-boarding

04

program start

05

program End

06

Investor demo day & Bootcamp

(A 2 Day Offline Event)

07
Still didn't get your answer?
Connect with us @ 0141-2922373 / 2922286 / 2929831
Top